This website is hosted by Andrew's mother, JoAnn Hadfield
Andrew Lawson Foundation
The Andrew Lawson Foundation has been established to carry on my son's dreams and to share with my friends, colleagues and expanding, supporting community, up-to-date information on the scholarship in his name. The Andrew Cole Lawson Cal Poly Pomona Memorial Scholarship supports dedicated students achieve their dreams while advancing admirable goals to benefit society. As many of you know, the rising cost of higher education is putting a financial strain on students, especially at state schools like Cal Poly Pomona that obtain less support from the legislature and serves many lower income families.
Andrew....
Was brilliant, directed and passionate. Accomplished. Kind and supportive.
At 21 years old, his dreams were stolen by mental illness. After years of severe depression, he took his own life. He fought his illness to achieve many successes, including near completion of his Mechanical Engineering degree with a high GPA, participation as Chief Engineer of the Unmanned Underwater Vehicle design group of the campus Northrop Grumman Collaborative Project (NGCP), and a summer position with Northrup Grumman. The NGCP is a technology demonstration team between Cal Poly campuses (San Luis Obispo and Pomona) solving real-life challenges – in this case, projects that integrate operation of autonomous air, ground and underwater vehicles. Andrew loved the excitement and purpose of this club. He inspired and challenged his fellow students, professors, colleagues, friends and family with a unique and informed perspective that was entirely his own.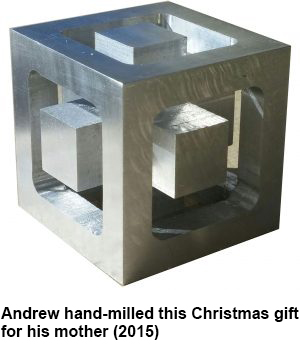 His Scholarship
The Andrew Cole Lawson Cal Poly Pomona Memorial Scholarship was established to provide hope, encouragement and creative design opportunities to students like Andrew. It is awarded to engineering students of any discipline with a criteria to participate in the NGCP. The scholarsahip has been established as an endowment. As of January 2020, the total gifts to the scholarship reached $58k, exceeding the $50k minimum threshold to create an endowed fund.  Endowing the funds make the annual scholarship self-sustaining and funded by the account's interest. In other words, Andrew's legacy scholarship is now a forever scholarship!
Ongoing, future donations will allow increasing the amount of annual scholarship (currently $2k/year), and/or potentially supporting more than one annual scholarship.  As of March 2023, donations total $69,631!    This includes generous donations during Cal Poly Pomona annual Giving Day event in April 2021.
* Denotes Multiple Donations
Abed, Sara • Alfieri, Michelle • Ambrosino, Andrew • Andersen, Christina • Anonymous • Auld, Lorelei • Beecher, Lisa • Carlston, Barbara * • Carlston, Karen * • Carlston, Andrea • Carlston, Kelsey * • Carlston, Kent and Linda * • Carman, Joshua • Chow, David • Clendening, Denise • Coon, Christopher • Dalager, Andrew • Dalager, Myron and Sandra • Dammen, Diane • DeLuccia, Frank * • Drukker, Colin • Dudek & Assoc., Inc. • El Chammas Gass, Dina • Eng, Norman • Fahy, Pam * • Fregosa, Vincent & Kelley • Froelich, Gina • Fuscoe, Patrick * • Garcia, Alejandro • Gates, Lawrence and Amy * • Guerts, Carrie • Grundy, Halley * • Hadfield, Gerald • Hadfield, JoAnn * • Hager, Ricia • Halligan, William * • Hauswirth, Ruth * • Henry, Joseph • Heyman, Barbara • Hollenbaugh, Katie * • Hori, Susan * • Houseworth, Alice • Hsu, Chuan • Huang, Catherine * • Isterabadi, Amar • Jansen, Joanna • Kaufman, Laura and Charles * • Elizabeth, Kim * • Knox, Charlie • La Grange, Ceanatha (C.C.) • Lasater, Edward * • Lee, Tony • Lorbeer, Lori * • Mainez, Larry • Marcelino, Lysern * • Matsler, Sean • Mazler, Haggai • McCann, Keith and Chris • McCracken, Terri • Mears, Dwayne * • Minn, Isabelle • Morgan, John • Munoz, Laura • Murillo, Jennifer • Newgi, Akshay • Nowak, Wendy • O'Connell, Bill * • Paone, Tim • Panzer, Eric • Pascua, Dennis • Patterson, Carlin • PlaceWorks • Potter, Ryan • Pusateri, Rachel * • Quintero, Hugo • RKC Investment Co.* • Riva, Laura • Schenck, Nicolas • Schwab, Suzanne • Seale, Tammy • Shopoff, William • Sotelo, Fernando * • Sousa, Teresa • Springe, Hailee • Stephens, Andrea and Kyle • Stone, Carey • Sutton, Sarah • Thompson, Grant • Vermilion, Nicole • Wallace, Marya • Wargo, Robin • Whipple, Shauna • Whiteman, Marlie • Winterswyk, Alisha • Yau, Frances *
SCHOLARSHIP RECIPIENTS
2022 – Mario Molina, Andrew Ballard, and Stanley Ossyra
As with 2021, in 2022 the number of impressive, qualified scholarship applicants made it too difficult to select just one recipient.   One scholarship was funded by the endowment and Larry Gates, President, DRC Engineering and I funded two additional scholarships.
2022 - Mario Molina
As a Cal Poly Pomona Senior in the Computer and Electrical Engineering program, Mario's scholarship application demonstrated how he has evolved since entering college. After attending classes remotely during the CoVid pandemic, Mario said his return to in-person classes reinvigorated him. He reflected on his early assumptions for his college career and then emphasized his new perspective. He realized CPP gave him an opportunity beyond his academic goals and his mindset shifted to not only performing on exams but to being a true participant in class and outside of the classroom. He strives to be an engineer that approaches one's peers with a "complete investment in possible solutions, pin-point perception on assignment/design, and share essential and valuable opinions on the direction of a project."
Mario served as the Unmanned Autonomous Vehicle (UGV) Embedded Team Lead for the NGCP project. He concluded that the project was defining not only to his college experience but to his growth as a professional engineer – in a way that 'simply attending classes' could never have done for him. He was set to demonstrate his real-world talents during a Summer 2022 internship with NGCP.
2022 - Andrew Ballard
After just completing his first semester at CPP as a Freshman in the Mechanical Engineering program, Andrew's passion, and commitment to the program as well as the NGCP program shines. Similarly, his history of public service is exemplary. He has participated in service clubs to support events and fund raising including the Special Olympics, Pink Walk for Cancer Awareness, Martin Luther King Jr. Day Memorial, and breast cancer research.
Andrew has been passionately devoted to the Northrop Grumman Collaboration Project mission since starting CPP. As part of the chassis drive team for CPP, he met for a minimum of 12 hours every week to design an unmanned ground vehicle that can survive the impact of being released, then locate a stranded hiker to be carried off to safety by a VTOL (vertical take-off and landing aircraft) made by Cal Poly San Luis Obispo. Seeing the Cal Poly Pomona and Cal Poly SLO teams collaborate has given him a sense of belonging. His work on the project has also made him want to contribute to the advancement of our world through autonomous control.
Having his lost his father at age 2, he has turned his adversity into gratitude for his career opportunities and looking forward to putting his progress into 'something bigger than himself'.
2022 - Stanley Ossyra 
Stanley was one of three 2021 Andrew Lawson Foundation scholarship recipients (see profile below). He was selected for another award in 2022 and based on an email updating his activities in the last year, a better choice could not have been made. His brilliancy reminds me of my son Andrew's.   A summary of (just one year's accomplishments!) includes:
Leading a new CPP project developing an Electric Vertical Takeoff/Landing (e-VTOL) aircraft for Urban Air Mobility including coordinating efforts to recruit approximately thirty-five students to work on the project and designing logos and other materials for the effort.
Continued NGCP UAV participation including a successful flight at Demo Day (May 2022)
Stanley's research in Collision Avoidance using ADS-B Transponders was published in the proceedings of the International Conference of Unmanned Aircraft Systems (ICUAS) 2022 hosted in Croatia in June.
Acceptance to the National Science Foundation EEC Grantee's Conference to represent Cal Poly Pomona's research program (September 2022, Arlington, Virginia)
'Training' Boston Dynamics' Spot UGV (robotic dog) for Precision Agriculture
And in his 'free time'?!  Stanley has been learning painting/photo editing in Blender 3D and Photoshop.  An example is a painting of an Albatross DBa (WWI fighter plane) near Ypres, Belgium in the winter of 1917.

2021 – Talon Pollard, Stanley Ossyra and Duc Minh Nhat Nguyen 
Previously notified that they were finalists, in a Zoom meeting on May 4, 2021, Talon, Stanley and Duc were elated to learn that they would each receive a $2,000 Andrew Cole Lawson scholarship.    As in 2020, the pandemic prevented an in-person meeting.
 Row 1 - Duc Minh Nhat Nguyen, Dr. Lily Gossage, Ph.D. (Director of Maximizing Engineering Potential, CPP), Stanley Ossyra
Row 2 - Larry Gates (President DRC Engineering/donor), Talon Pollard,  JoAnn Hadfield
Row 3 - Norma De La Llata - Development Operations Coordinator, College of Engineering, CPP
2021 - Stanley Ossyra 
Visiting museums and airshows with his parents sparked Stanley's interest in aerospace at a young age.  He was fascinated by the seemingly impossible machines, both deceptively simple and enormously complex.   His father's experience and work in Aerospace Engineering also helped foster his interest in aircraft and the aerospace industry. Stanley's scholarship application reflected his passion for engineering, his dedication to learning, and extremely focused goals for his future.
Stanley started his first year at Cal Poly Pomona Aerospace Engineering career remotely due to COVID, transferring from high school with a Junior standing. During the fall semester, he joined the Payload Integration team in Northrop Grumman Collaboration Project (NGCP), leaning on his multiple years of experience in the FIRST robotics program during High School, where he gained hands-on experience in a wide range of disciplines, from building and wiring the robot, to working as the technical lead and project manager for the team.
Over the summer he participated in the Cal Poly Pomona Research Experience for Undergraduates in UAV Technologies, developing a collision prediction and avoidance algorithm for fixed wing UAVs.  Stanley enjoys the academic challenge as much as the application of his knowledge to solve real life engineering challenges.
In his second year at Cal Poly Pomona, Stanley is now allowed to be on campus, where he continues to participate in two research projects while working as laboratory manager for the CPP Unmanned Vehicle laboratory. In this function, he works with the different clubs, research groups, and educators on preparing UAVs, maintaining lab equipment, and flying for selected missions as a Part 107 licensed UAV pilot.   Also in his second year with the NGCP Project, Stanley is the team lead for the Payload Integration team. Through the knowledge gained by his experience with constructing UAVs, as well as his experience in his previous year on the team, he aims to refine the integration design process, allowing prototypes to be manufactured and tested in a rapid manner.
Upon graduating, he hopes to pursue his PhD in Aerospace Engineering, helping advance research at the forefront of UAV technologies.
2021 - Talon Pollard 
At the time of his scholarship, Talon is a 2nd year CPP Computer Engineering student anticipating graduation in Spring 2023.  He overcame childhood adversity to enthusiastically approach his CPP degree as well as related projects outside his curriculum.   While at CPP, Talon has balanced his engineering passion with primary caretaking for his grandmother with whom he resides.  In the fall of 2020, he joined the NASA L'Space Mission Concept Academy (MCA) 12-week program along ten other students from various California universities and disciplines to design a lander mission to Enceladus, one of Saturn's moons, to study its phenomenon that is the "tiger strips".   This project was typical of the collaborative projects that attract Talon.    Describing his participation in CPP's NGCP Simulation Team (for the vertical take-off and landing aircraft and unmanned ground vehicle) he states "I love that NGCP is organized into two campuses, each with its own vehicle and operation teams… allowing everyone a chance to contribute with their perspectives and skills.  No talent goes wasted.."
Talon is a first-generation college student facing the hurdles of remote learning under COVID and working various jobs (including math tutoring and working at CPP's Architecture Fabrication Lab) to support himself and his grandmother.   Mediation skills learned with the Maximizing Engineering Program (MEP) at CPP have helped him recognize and balance his priorities.  He has maintained a very high grade point average.
His long-term goal is to be a computer system/physics researcher involving robotics and unmanned vehicles.   Another long-term goal is to help support his mother in Vietnam as well as help build a youth education organization.
2021 - Duc Minh Nhat Nguyen 
Du
c is a junior in CPP's Aerospace Engineering program.   He described the USA at the time of his 2016 landing at LAX from Vietnam as the land of hope, opportunity and peace.    The adjustment, however, was not easy.   His first job was on an assembly line at Zodiac Aerospace where he found joy in studying the engineering drawings for the electric circuits he assembled.  He wanted to learn.   He described his transition at this job from a clumsy, unskilled youngster to a man full of desire and ambition.
He focused his goals during remote learning (due to COVID) in 2020 and noted that although just an underclass observer of the senior projects, he realized his passion for: "configuring, testing, and creating a method to identify a mathematical model to reflect the mechanism of Unmanned Aerial Vehicles (UAVs) to customize and optimize functions in various conditions."  He believes that autonomous, AI and control systems are a game changer that will enable humans to employ impossible missions, including search and rescue missions to save lives.
As of December 2021 he is working on two similar projects.   One is a search and rescue UAV funded by Lockheed Martin and the other is a fire detection and suppression UAV funded by NASA.  In early January 2022 he will go to Washington D.C. to present at the transportation research board conference.
2020 - Bankole Makine-Odusola - Scholarship Recipient
In 2020, the 4th Andrew Cole Lawson Memorial Scholarship was awarded to Bankole Makine-Odusola. Although I have had the pleasure of communicating with Bankole, unlike previous years, due to COVID, Cal Poly was unable to host the luncheon for us to meet in person. Also, because of the pandemic, the NGCP could not host their annual demo day.
As the 4th recipient of the Andrew Cole Lawson Memorial Scholarship, Bankole was the first candidate to face the COVID challenge of starting his Cal Poly Pomona career remotely. And, the scholarship became even more important in supporting Bankole financially since his 2020 summer internship with Intel was also cancelled due to the pandemic.
Like Andrew, Bankole is a Mechanical Engineering (ME) student and intends to pursue a PhD. As an entering junior at Cal Poly, he anticipates graduating in 2022. He is transferring from California Maritime Academy where he worked alongside his ME professor developing an autonomous oceanographic vessel. At the academy, he was also very active in the Black Student Union, Louis Stokes Alliance for Minority Participation, American Society of Mechanical Engineers (ASME), and the National Society of Black Engineers (NSBE) where he currently serves as Region VI Treasurer.
One of his reasons for transferring to CPP is because of the university's close relationship with the aerospace industry. Andrew's scholarship opportunity (and requirement to participate in the Northrop Grumman Collaborative Project (NGCP)) introduced him to the opportunity to work with like-minded students in developing autonomous vehicles. One area that he is hoping to contribute to the NGCP is the Blended Wing Body aircraft which is where he sees the future of aviation heading.
Bankole has already established himself as community-minded. When requested, he hosted a workshop on holographic projections for the Bakersfield STEAM (Science Technology Engineering Art Mathematics) Academy, an inspirational program for low-income and minority K-12 students. His demonstration included a practical experience for students to construct a hologram pyramid on their mobile phones. Another example of 'giving back' to the community was during his Gulfstream Aerospace internship. He volunteered to participate in the "Pilot for a Day" event to offer terminally ill children interested in aviation an opportunity to experience the life of a pilot. Representing the perspective of an engineering student, Bankole spent the day with a boy and his family and introduced them to virtual reality and other emerging technologies in the aerospace industry. Bankole recalls the rewarding experience of inspiring the boy and his siblings.
Perhaps Bankole's selection as the scholarhip's 4th recipient was 'cinched' by his Gulfstream's internship supervisor's recommendation letter. He noted that from the time of Bankole's first interview, "my team and I knew that Kole was an individual with skills and talents far beyond his years." He further details the technical assignments he completed during a limited time internship and concludes that Kole demonstrated an impressive level of maturity. The summary reminded Andrew's Mom of Andrew's Northrop Grumman supervisor's summary of his internship!
2019 - Santiago Bosch - Scholarship Recipient
At a young age, Santiago developed a builder's mentality: if you want something, make it. Fascinated by building and creating from a young age, it was his photography and film making hobbies in high school that generated a need to build tools, gadgets and fixtures that didn't exist or were too expensive. At Irvine Valley Community College he focused on mechanical engineering. After a couple of years he was introduced to, and attracted to the curriculum of Industrial Engineering. He loves studying the design/process and particularly appreciates the challenge of improving the product process. He is inspired by a quote posted in the Cal Poly Pomona engineering building hallway; "Engineers make things. Industrial Engineers make things better." He explains Industrial Engineering as a blend of engineering and business and likes the concept of industrial engineers as being "the people's engineer." Recognizing that so many great product ideas do not see the light of day because of poor execution, he looks forward to a career solving problems to move innovative products to the consumer to improve the quality of life.
Santiago is a senior at CPP and anticipates graduating Fall 2020. He joined the Unmanned Ground Vehicle (UGV) NGCP team in Fall 2018 as a Systems Engineer. He has gained invaluable, practical experience in making and improving the UGV, working with his team members, and learning how to manage and document projects.
Through years of multiple attempts to land an internship, Santiago landed his first internship at Fender Musical Instrument Corporation (FMIC) in Corona, CA. Playing the guitar since age 10, he was thrilled to be a part of their team while blending his music and engineering passions. He plans to go back to FMIC as a full-time engineer, potentially followed by industrial/manufacturing engineering positions at other industries. Ultimately, Santiago hopes to work as a consultant for small and start-up companies to help them design and manufacture products.
Dedicated to learning and helping his family fund his education, Santiago wants to stay focused on studies while limiting future school debt. He concludes that the Andrew Cole Lawson CPP Memorial Scholarship not only benefits him financially, but that it is also an honor to be presented with an award that holds great value and respect.
2020 Update: Since his 2019 scholarship award, Santiago has studied as a full-time student and worked as a draftsman for the Eastman Music Company. Unfortunately, his summer internship was cancelled due to COVID. He has been applying for positions close to home and working to complete his senior year project in a virtual format with Niagara Bottling, LLC. Santiago still plans on graduating in December 2020!

2018 -Tristan Sherman - Scholarship Recipient
Tristan was awarded the 2018 Andrew Cole Lawson Memorial Scholarship as well as a supplemental award in 2019. After three years of NGCP experience, he has served as 2018-19 Program Manager to organize and support five different teams as well as the collaboration between Cal Poly San Luis Obispo students. NGCP has provided him practical experience to support long-term goals of designing autonomous system platforms for applications such as precision agriculture, nature preservation and disaster relief.
With seemingly unlimited energy, Tristan is well on his way to making a difference. Besides serving as NGCP Program Manager in 2019, he continues working for CPP as UAS Lab Manager to help fund his tuition, continues his coursework, and flies Unmanned Aerial Vehicles for a precision agricultural research team. In August 2019, along with others, he presented agricultural research findings to California's Lt. Governor, Eleni Kounalakis. His group is comparing remote sensing data against highly calibrated test equipment. The goal is to increase the accuracy of plant health estimation from the images by creating an AI tool to compare images to ground data. The objective is to determine which crops require the most water/nutrients so farmers can focus their resources there instead of spraying the entire field evenly. This has the potential to drastically reduce resource usage and at the same time increase yield.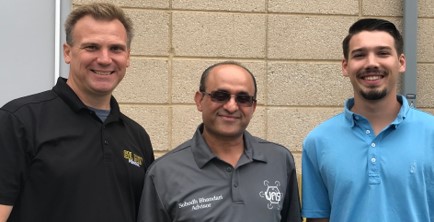 Tristan cultivates his creative skills with a minor in music; playing violin in the Cal Poly Pomona Philharmonic Orchestra. He is also an avid swing dancer and can be found at the lindy hop venues near LA almost every week.

2017 Nicole Curtis-Brown – 1st Scholarship Recipient
As a 4th year Aerospace Engineering student in 2016-2017, Nicole received the first Andrew Cole Lawson Memorial Scholarship. After serving the Unmanned Aerial Vehicle (UAV) team for 3 years, she was selected to lead the entire Cal Poly Pomona NGCP team including facilitating collaboration between the CPP and San Luis Obispo campuses.To ease the financial burden on her parents, she took approximately 19 units per quarter to complete her degree in 4 years.At the time of her scholarship award, she shared with me that she planned to work at Northrop Grumman in space vehicle design upon graduation and subsequently pursue a PhD in the industry. At dinner, she shared that she was thrilled to be awarded the scholarship – that it meant someone besides her family believed in her future.
Since her graduation in Spring 2017, Nicole has been working for Northrop Grumman in Space Structural Analysis. In addition to technical expertise, she was surprised the level of leadership and program management skills also required for her job. She has applied valuable skills learned as NGCP project manager. She believes leadership and management are not emphasized enough in the day to day college curriculum but are learned through these extracurricular projects.
Nicole has continued her NGCP involvement serving as a student mentor and Northrop Grumman Evaluator. She is very proud of the team and the project legacy and is excited to see what the students accomplish each year.
Northrop Grumman Collaborative Project
– Cal Poly Pomona
My son, worked on the Unmanned Underwater Vehicle (UUV) NGCP Team. Immediately upon his passing, his team members reached out and invited me to their lab: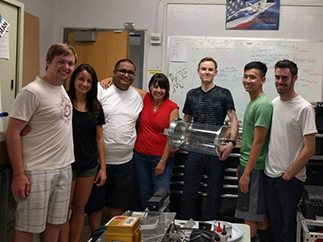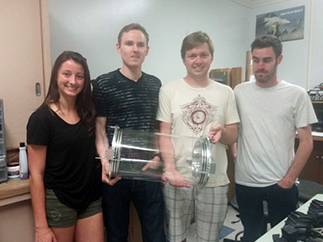 May 2016, Kelsi, Andrew Ramage, Andrew Dalager, and Andrew Ambrosino (these 3 'Andrew's also shared their memories at Andrew's Memorial service)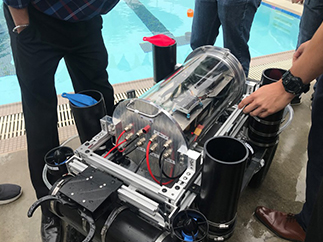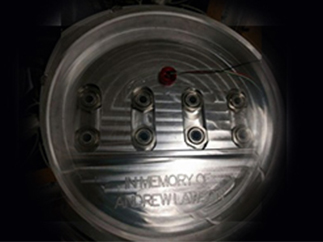 Andrew's team engraved the UUV in his memory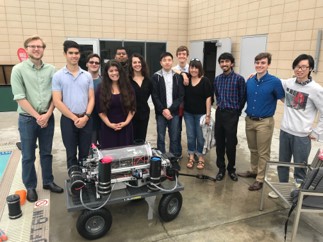 Me with UUV team – May 2016 Demo Day